'Zoonicorn' CG Series Names Writing Team, Composer
Animation Magazine | June 29, 2020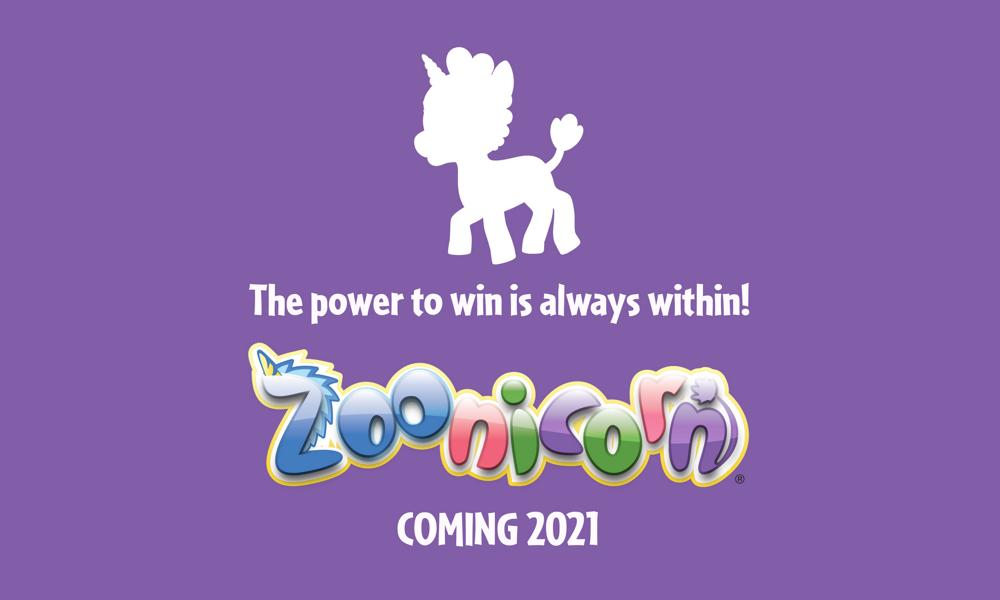 As production moves into high gear in anticipation of the 2021 global launch of 52 original seven minute episodes, Zoonicorn, the multiplatform animated preschool brand featuring a Zooniverse of enchanting characters, has added a team of multi award-winners to its creative lineup.
Zoonicorn is teaming with Toonz Media Group (TMG), a global leader in family entertainment, for the development, co-production and distribution of the new 3D CGI content. TMG's distribution arm Imira will distribute the series globally through its worldwide network.
A magical mix of zebra and unicorn, the Zoonicorns inhabit the dreams of young animals, taking them on amazing adventures to help learn important social-emotional skills. When the dream is over, the young animal wakes up feeling self-confident and with decision-making skills necessary to overcome whatever challenges they are facing.
The Zoonicorns are kids themselves, each with special talents and skills: Purple Promi is the wise caretaker of the group, handing out sage advice and offering a ready ear to anyone who needs it. Green Ene is the analytical Zoonicorn, a tech whiz, who believes every problem has a solution that can be solved, usually with one of his gadgets. Blue Valeo believes the answer to any problem is physical — full of gusto and confidence, he lets nothing stand in his way. Pink Aliel is a big ball of energy wrapped in curiosity, a bubbly force of nature, ready to burst with excitement for anything.
The accomplished writing team of kids' TV vets includes:
The award-winning Mark Zaslove>, who serves as showrunner and lead writer/editor for the series. Zaslove's many credits include Winnie the Pooh, for Disney, for which he was honored with two Emmy Awards. Other credits include Lazytown for Sprout, Bob The Builder for PBS Kids, Strawberry Shortcake for DIC, Shopkins for Netflix and DuckTales and TaleSpin for Disney.
>Stephen Senders>, whose work includes Inspector Gadget for Nickelodeon, Cloudy with a Chance of Meatballs for Cartoon Network and Max & Ruby for Nick Jr.
>Annie Girard >(Donald Duck's Three Caballeros for Disney+ and Club Penguin for Disney).
The multi-Emmy Award winning team of >Dennis Haley & Marcy Brown>, whose credits include Kong, King of the Apes for Netflix, LEGO Friends for LEGO, Dinosaur Train for Jim Henson Co. and Clifford's Puppy Days for Scholastic/PBS.
Emmy Award winning music composer >Rich Dickerson> also joins the Zoonicorn production team. Dickerson scored and wrote the songs for the Warner Bros. show and films Scooby-Doo and as well as the theme song for the TV series What's New Scooby Doo? He bagged the Emmy for penning the theme for the ESPN show Off Mikes. Dickerson has also produced and written for recording artists, including EG Daily with the Top 10 Billboard Dance hit Beautiful. Dickerson served as music supervisor for movies such as In Too Deep, Paid In Full (both Miramax) and Queen of the Damned (Warner Bros.). He was VP of Music for the animated webseries network Icebox.tv, where he worked with many composers, produced the music for the shows and wrote theme songs.
The growing line of Zoonicorn products have continued to expand since the launch of the brand in 2015. In 2018, Zoonicorn and Jay@Play introduced a new interactive plush as part of the "Wish Me" brand. Other products include a picture book, three interactive story apps and four games available for download and on the Zoonicorn website and available on both iTunes and Google Play. Zoonicorn debuted a new limited edition apparel line in Fall, 2019.
The 11 Zoonicorn music videos have been a hit on YouTube, with additional Sing Along videos offered exclusively on Kidoodle.TV, Happy Kids TV, ToonGoggles Jr. and Kabillion. Brand development and licensing for the property is headed by J'net Smith of All Art Licensing.